Community Medical Care, Inc. is a local charity that began in 2002. We are assisting Barren County's low-income seniors with prescription medication, dentures (when funding is available) and hearing aids. Hearing aids are obtained through another charity program, The Starkey Hearing Foundation's Hear Now program.
Also, Community Medical Care assists low-income, working uninsured adults of Barren County by providing primary health care, prescription medication, emergency dental, optometric & hospital care, and specialist consultation. The primary health care is made possible through a residency program at T. J. Samson Community Hospital.
Fund Raisers held each year include the following:
September - Extreme Fitness 5K Walk
December – CMC hands out toys to all the children at T. J. Samson Community Hospital
As a way to give back to the community.
Community Medical Care is also supported by Barren County residents, local government, civic groups and clubs. It is run by volunteers. All the volunteers donate their service worth half a million dollars each year.

Each September Dr. Bharat Mody hosts an Appreciation Day for all the supporters and volunteers. The night is held in conjunction with the Glasgow/Barren County Chamber of Commerce's Business after Hours.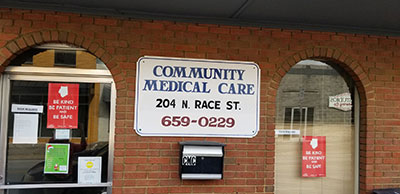 Located at 204 N. Race Street
in Glasgow